4-Port Ethernet IO-Link Master
IO-Link V1.1.3 compatible Master
Ethernet/TCP-IP interface,
DHCP or static IP address configuration
Standardized JSON mapping
Node-RED integration supported
4 independent powered IO-Link Class A ports
IP67 Protection
MQTT supported
IO-Link V 1.1.3. fully backward IO-Link compatibility
Ethernet/TCP-IP interface, which is globally accepted and highly supported, making it easy to integrate with existing systems or to build a new system.
According to the digitization of the "last meters" in the automation technology, nass magnet as an expert for pneumatic valve actuators presents the innovative valve driver with IO-Link interface, implemented in a DIN interface connector.
Connected valves can be remotely controlled and monitored via the network using this peer to peer interface.
Useing with a master, diagnostic data for the connector, solenoid coil and valve system can be retrieved, monitored and connected to cloud-based systems.
For the use in extreme environmental conditions nass magnet also offers robust versions in the protection classes IP65/IP67.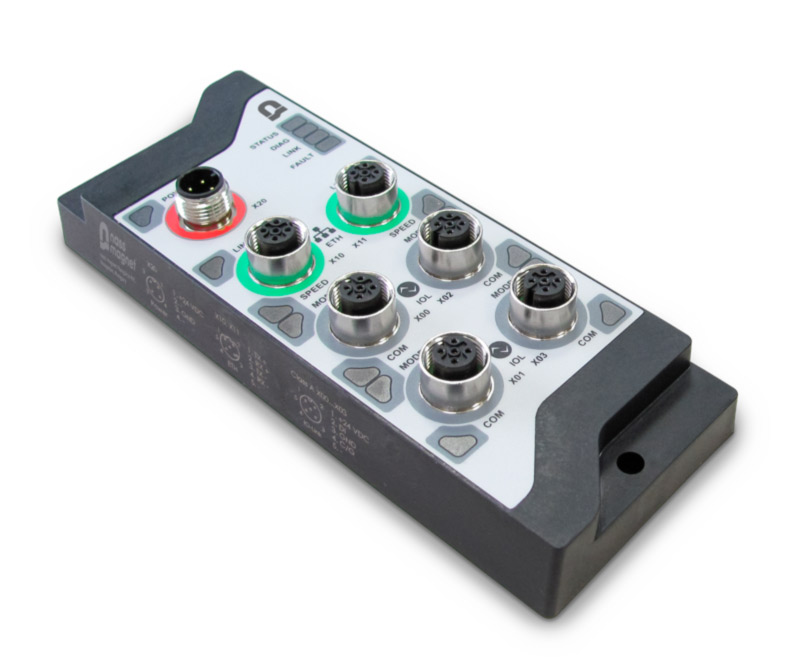 Industry 4.0
With the rise of Industry 4.0, the demand for industrial IoT solutions is growing day by day.
Easy and effective management of the massively increased Smart IO-Link devices has become a key challenge today.
Our new 4-Port Ethernet IO-Link Master was designed especially for Industry 4.0 environment, with full capability to serve IIoT systems and applications.
Thanks to the JSON interface - which follows the new "JSON Integration for IO-Link" specification -, managing IO-Link sensors and actuators has never been easier. The device is fully compatible with any software application that supports the JSON data format.
Over JSON data interchange format, the parameters and process data are simply accessible, all configuration and diagnostics can be done in a fast and flexible way.
With this new Ethernet Master, wiring costs can be dramatically reduced, compared to parallel cabling.
The system becomes transparent, making it easier to run and maintain.
Any extension or modification is much more simple than before. Due to the standard M12 connectors no special skills are required for cable work.
State-of-the-art technology
IO-Link V1.1.3 compatible Master
Ethernet/TCP-IP interface,
DHCP (Dynamic Host Configuration Protocol) or static IP address configuration
Standardized JSON mapping
Node-RED integration supported
4 independent powered IO-Link Class A ports
IP67 Protection
MQTT supported
IO-Link V 1.1.3. fully backward IO-Link compatibilty
EtherNet/TCP-IP interface, which is globally accepted and highly supported, making it easy to integrate with existing systems or to build a new system.
Easy Installation
The integrated web GUI offers a convenient interface for:
IO-Link gateway / Network configuration
IO-Link Port configuration
IO-Link Device configuration
IODD-less ISDU 

(Indexed Service Data Unit)

 parameterization
Basic security settings
SNTP 

(Simple Network Time Protocol) 

time synchronization
Easy parameter setting
Setting up new field devices is always a hard task.
With the new Ethernet Master all settings can be done remoitely - eliminating the manual procedure.
Data Storage
All configured parameters of the connected devices can be stored in the unit. When replacing any of them the stored paramerters are downloaded automatically.
It will save time and cost in case of maintenance, and significantly reduce the number of possible faults.
State-of-the-Art Web GUI interface

Direct device access over Ethernet without industrial Fieldbus and PLC

Easy Node-RED integration 

Harmonised with the latest IO-Link standards

Cost effective design
Direct manufacturer support

Customized OEM enclosure possible

Up-to-date software/firmware support 

Extendable with on-board MCU (Microcontroller Unit)

In combination with the nass magnet's Smart Connector, it is the perfect solution for valve monitoring
More Information

| | |
| --- | --- |
| System affiliation | Others (customized) |