The armature assembly is the pressure-tight internal part of a solenoid valve. nass magnet produces its components from round material in brass, as well as from stainless steel using diverse alloys. The selection of the sealing material (elastomer) is always based on the operating and ambient conditions of the application.
The standard seals used are made of FKM. NBR, HNBR, MVQ, EPDM and FFKM are available on request. Hard-sealing materials such as PTFE are available for process technology applications. This expands the range of applications to include a variety of media for lower and higher temperature ranges.
Sealing materials suitable for oxygen or other aggressive gaseous media are available on request.
Most armature systems have a short-circuiting ring as standard. They can alternatively be used with solenoid coils at DC as well as AC voltage.
Non-ferrous metal shorting rings are offered as an option.
The portfolio is rounded off with threaded and flanged connections, whereby in the latter case a mounting plate is required to fix the armature system in the valve body.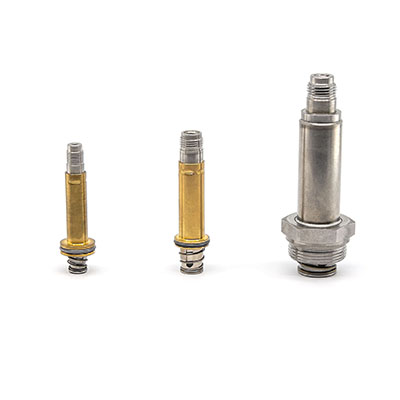 Armature Assemblys
Price
System affiliation
Power Level
Electrical operating mode
Connection Type
pneumatic operating mode
Orifice Size Inlet
Orifice Size Exhaust
Min. Operating Pressure
Max. Operating Pressure
Surface Coating Armature Tube
Coating of armature
Sealing material in the armature
Initial lubrication
Permissible operating temperature min.
Permissible operating temperature max.
Drawing number
Price:
System affiliation:

System 6

Power Level:

4

Electrical operating mode:

AC/DC

Connection Type:

Flange with O-ring Groove

pneumatic operating mode:

3/2 NC

Orifice Size Inlet:

1,0 mm

Orifice Size Exhaust:

1,1 mm

Min. Operating Pressure:

0,0 bar

Max. Operating Pressure:

10,0 bar

Surface Coating Armature Tube:

Without

Coating of armature:

Without

Sealing material in the armature:

FKM

Initial lubrication:

with initial lubrication

Permissible operating temperature min.:

-10 °C

Permissible operating temperature max.:

170 °C

Drawing number:

0556 00.6-00

Price:
System affiliation:

System 6

Power Level:

1

Electrical operating mode:

DC

Connection Type:

Flange with O-ring Groove

pneumatic operating mode:

3/2 NC

Orifice Size Inlet:

0,8 mm

Orifice Size Exhaust:

0,9 mm

Min. Operating Pressure:

0,0 bar

Max. Operating Pressure:

8,0 bar

Surface Coating Armature Tube:

chem. Nickel on brass

Coating of armature:

chem. Nickel on brass

Sealing material in the armature:

FKM

Initial lubrication:

with initial lubrication

Permissible operating temperature min.:

-10 °C

Permissible operating temperature max.:

170 °C

Drawing number:

0556 01.6-00

Price:
System affiliation:

System 6

Power Level:

1-4

Electrical operating mode:

DC

Connection Type:

Flange with O-ring Groove

pneumatic operating mode:

3/2 NC

Orifice Size Inlet:

0,6 mm

Orifice Size Exhaust:

0,7 mm

Min. Operating Pressure:

0,0 bar

Max. Operating Pressure:

8,0 bar

Surface Coating Armature Tube:

chem. Nickel on brass

Coating of armature:

chem. Nickel on brass

Sealing material in the armature:

FKM

Initial lubrication:

with initial lubrication

Permissible operating temperature min.:

-10 °C

Permissible operating temperature max.:

170 °C

Drawing number:

0556 02.6-00

Price:
System affiliation:

System 6

Power Level:

3

Electrical operating mode:

AC/DC

Connection Type:

Flange with O-ring Groove

pneumatic operating mode:

2/2 NC

Orifice Size Inlet:
Orifice Size Exhaust:
Min. Operating Pressure:
Max. Operating Pressure:
Surface Coating Armature Tube:

Without

Coating of armature:

Without

Sealing material in the armature:

FKM

Initial lubrication:

with initial lubrication

Permissible operating temperature min.:

-10 °C

Permissible operating temperature max.:

170 °C

Drawing number:

0556 04.6-00

Price:
System affiliation:

System 6

Power Level:

3-4

Electrical operating mode:

AC/DC

Connection Type:

Flange with O-ring Groove

pneumatic operating mode:

3/2 NC

Orifice Size Inlet:

0,8 mm

Orifice Size Exhaust:

0,9 mm

Min. Operating Pressure:

0,0 bar

Max. Operating Pressure:

10,0 bar

Surface Coating Armature Tube:

Without

Coating of armature:

Without

Sealing material in the armature:

FKM

Initial lubrication:

with initial lubrication

Permissible operating temperature min.:

-10 °C

Permissible operating temperature max.:

170 °C

Drawing number:

0556 29.6-00

Price:
System affiliation:

System 6

Power Level:

3

Electrical operating mode:

DC

Connection Type:

Flange with O-ring Groove

pneumatic operating mode:

3/2 NC

Orifice Size Inlet:

0,6 mm

Orifice Size Exhaust:

0,7 mm

Min. Operating Pressure:

0,0 bar

Max. Operating Pressure:

8,0 bar

Surface Coating Armature Tube:

chem. Nickel on brass

Coating of armature:

chem. Nickel on brass

Sealing material in the armature:

HNBR

Initial lubrication:

with initial lubrication

Permissible operating temperature min.:

-25 °C

Permissible operating temperature max.:

130 °C

Drawing number:

0556 38.6-00

Price:
System affiliation:

System 6

Power Level:

1

Electrical operating mode:

DC

Connection Type:

Flange with O-ring Groove

pneumatic operating mode:

2/2 NC

Orifice Size Inlet:

1,0 mm

Orifice Size Exhaust:
Min. Operating Pressure:

0,0 bar

Max. Operating Pressure:

10,0 bar

Surface Coating Armature Tube:

chem. Nickel on brass

Coating of armature:

chem. Nickel on brass

Sealing material in the armature:

HNBR

Initial lubrication:

with initial lubrication

Permissible operating temperature min.:

-25 °C

Permissible operating temperature max.:

130 °C

Drawing number:

0556 37.6-00

Price:
System affiliation:

System 6

Power Level:

1-4

Electrical operating mode:

AC/DC

Connection Type:

Flange with O-ring Groove

pneumatic operating mode:

3/2 NC

Orifice Size Inlet:

1,2 mm

Orifice Size Exhaust:

1,4 mm

Min. Operating Pressure:

0,0 bar

Max. Operating Pressure:

2,0 bar

Surface Coating Armature Tube:

Without

Coating of armature:

Without

Sealing material in the armature:

FKM

Initial lubrication:

with initial lubrication

Permissible operating temperature min.:

-10 °C

Permissible operating temperature max.:

170 °C

Drawing number:

0556 41.6-00

Price:
System affiliation:

System 6

Power Level:

1

Electrical operating mode:

DC

Connection Type:

Flange with O-ring Groove

pneumatic operating mode:

2/2 NC

Orifice Size Inlet:

1,0 mm

Orifice Size Exhaust:
Min. Operating Pressure:

0,0 bar

Max. Operating Pressure:

10,0 bar

Surface Coating Armature Tube:

chem. Nickel on brass

Coating of armature:

chem. Nickel on brass

Sealing material in the armature:

NBR

Initial lubrication:

with initial lubrication

Permissible operating temperature min.:

-40 °C

Permissible operating temperature max.:

100 °C

Drawing number:

0556 45.6-00

Price:
System affiliation:

System 6

Power Level:

1-4

Electrical operating mode:

DC

Connection Type:

Flange with O-ring Groove

pneumatic operating mode:

3/2 NC

Orifice Size Inlet:

0,6 mm

Orifice Size Exhaust:

0,7 mm

Min. Operating Pressure:

0,0 bar

Max. Operating Pressure:

14,0 bar

Surface Coating Armature Tube:

chem. Nickel on brass

Coating of armature:

chem. Nickel on brass

Sealing material in the armature:

HNBR

Initial lubrication:

with initial lubrication

Permissible operating temperature min.:

-25 °C

Permissible operating temperature max.:

130 °C

Drawing number:

0556 53.6-00