Plug-in solutions can be implemented easily and quickly with the modular international circular connector system according to IEC 61076-2.
M12 connectors are currently recommended as field bus connectors for almost all field bus specifications and are available in multiple codings.
The introduction of the new M8/M12 connectors illustrates nass magnet commitment to develop a reliable and flexible I/O or field bus connection on the circuit board.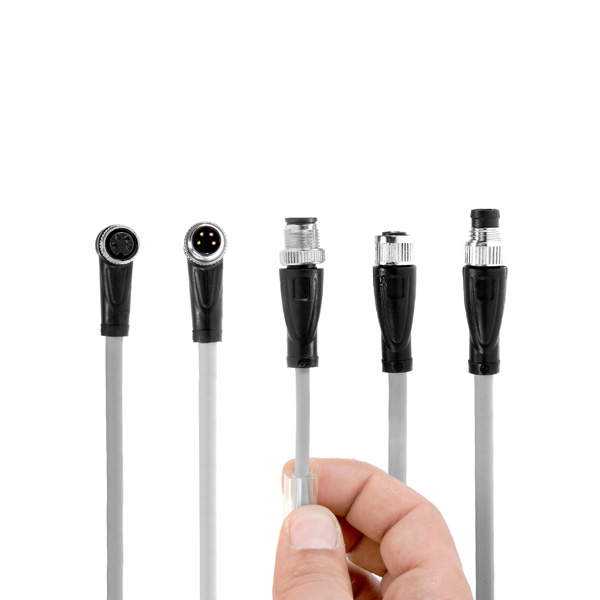 Circular Connectors
Price
Form
Connection
Type
Plug-in picture
Number of poles
Inner conductor
Number of Strand
Wire Cross-Section
Sheath colour
Sheath material
Cable length
Price:
Form:

M8

Connection:

Plug

Type:

Straight

Plug-in picture:

5

Number of poles:

3

Inner conductor:

1BN,3BU,4BK

Number of Strand:

3-adrig

Wire Cross-Section:

0,34 mm2

Sheath colour:

Grau

Sheath material:

PVC

Cable length:

3,00 m

Price:
Form:

M8

Connection:

Plug

Type:

Angled

Plug-in picture:

5

Number of poles:

3

Inner conductor:

1BN,3BU,4BK

Number of Strand:

3-adrig

Wire Cross-Section:

0,34 mm2

Sheath colour:

Grau

Sheath material:

PVC

Cable length:

3,00 m

Price:
Form:

M8

Connection:

Plug

Type:

Straight

Plug-in picture:

5

Number of poles:

4

Inner conductor:

1BN,3BU,4BK

Number of Strand:

4-adrig

Wire Cross-Section:

0,25 mm2

Sheath colour:

Grau

Sheath material:

PVC

Cable length:

3,00 m

Price:
Form:

M8

Connection:

Plug

Type:

Angled

Plug-in picture:

5

Number of poles:

4

Inner conductor:

1BN,3BU,4BK

Number of Strand:

4-adrig

Wire Cross-Section:

0,25 mm2

Sheath colour:

Grau

Sheath material:

PVC

Cable length:

3,00 m

Price:
Form:

M8

Connection:

Plug

Type:

Straight

Plug-in picture:

5

Number of poles:

3

Inner conductor:

1BN,3BU,4BK

Number of Strand:

3-adrig

Wire Cross-Section:

0,34 mm2

Sheath colour:

Grau

Sheath material:

PVC

Cable length:

5,00 m

Price:
Form:

M8

Connection:

Plug

Type:

Straight

Plug-in picture:

5

Number of poles:

4

Inner conductor:

1BN,3BU,4BK

Number of Strand:

4-adrig

Wire Cross-Section:

0,25 mm2

Sheath colour:

Grau

Sheath material:

PVC

Cable length:

5,00 m

Price:
Form:

M8

Connection:

Plug

Type:

Angled

Plug-in picture:

5

Number of poles:

3

Inner conductor:

1BN,3BU,4BK

Number of Strand:

3-adrig

Wire Cross-Section:

0,34 mm2

Sheath colour:

Grau

Sheath material:

PVC

Cable length:

5,00 m

Price:
Form:

M8

Connection:

Plug

Type:

Angled

Plug-in picture:

5

Number of poles:

4

Inner conductor:

1BN,3BU,4BK

Number of Strand:

4-adrig

Wire Cross-Section:

0,25 mm2

Sheath colour:

Grau

Sheath material:

PVC

Cable length:

5,00 m

Price:
Form:

M8

Connection:

Plug

Type:

Angled

Plug-in picture:

5

Number of poles:

3

Inner conductor:

1BN,3BU,4BK

Number of Strand:

3-adrig

Wire Cross-Section:

0,34 mm2

Sheath colour:

Grau

Sheath material:

PUR

Cable length:

5,00 m

Price:
Form:

M8

Connection:

Plug

Type:

Angled

Plug-in picture:

5

Number of poles:

4

Inner conductor:

1BN,3BU,4BK

Number of Strand:

4-adrig

Wire Cross-Section:

0,25 mm2

Sheath colour:

Grau

Sheath material:

PUR

Cable length:

5,00 m