Valve systems from nass magnet are primarily used for the control of compressed air or inert technical gases. The use with liquid or chemically aggressive media requires prior consultation with the customer service of nass magnet.
A valve system consists of a valve body with a factory-mounted armature system and a loss-proof or insertable O-ring or molded seal. Pneumatic interfaces established in the market lead back to different types of valve bodies and standards for pneumatic interfaces. One of the first standards used worldwide in industrial pneumatics was the CNOMO (Comité de Normalisation des Moyens de Production), derived from the French automotive industry.
SF (side flange)
KR (concentric O-rings)
GKR (concentric O-rings with captured exhaust air)
FL (lower flange connection with O-rings)
CNOMO (interchangeable series with established pneumatic connection hole pattern)
Valve systems from nass magnet are available both with and without manual override. The manual overrides are available in bistable, monostable, push or turn versions. The valve bodies are offered in the following materials depending on the size of the valve system:
Plastic (PA 6 / PA66, glass fiber or glass ball reinforced)
Anodized or passivated aluminum
Zinc die casting
The following switching functions are established: 2/2 NC and 3/2 NC (normally closed), 2/2 NO and 3/2 NO (normally open). A combined switching function can be realized as a special version.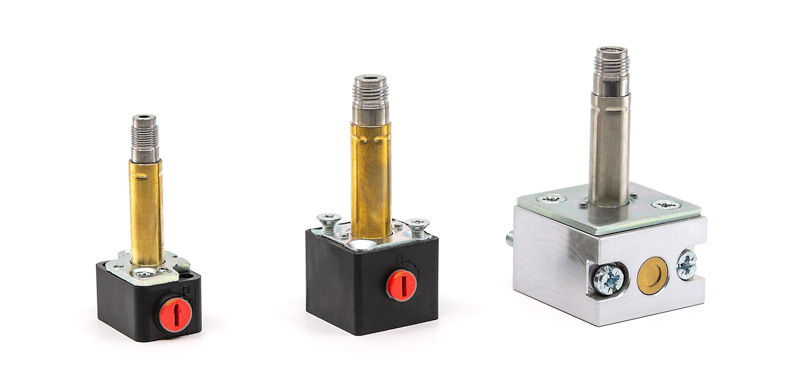 Valve systems
Price
System affiliation
Overall Width
Power Level
Electrical operating mode
Manual Override
pneumatic operating mode
Orifice Size Inlet
Orifice Size Exhaust
Min. Operating Pressure
Max. Operating Pressure
Connection Type
Surface Coating Armature Tube
Sealing material in the armature
Coating of armature
Sealing material to the valve body
Permissible operating temperature min.
Permissible operating temperature max.
Medium quality according to ISO standard
nominal flow 1-2
nominal flow 2-3
leakage max.
Drawing number
Price:
System affiliation:

System 6

Overall Width:

16 mm

Power Level:
Electrical operating mode:

AC/DC

Manual Override:

Without Manual Override

pneumatic operating mode:

3/2 NC

Orifice Size Inlet:

1,0 mm

Orifice Size Exhaust:

1,1 mm

Min. Operating Pressure:

0,0 bar

Max. Operating Pressure:

10,0 bar

Connection Type:
Surface Coating Armature Tube:

Without

Sealing material in the armature:

FKM

Coating of armature:

Without

Sealing material to the valve body:

ohne Dichtung

Permissible operating temperature min.:

-10 °C

Permissible operating temperature max.:

130 °C

Medium quality according to ISO standard:

3-3-3

nominal flow 1-2:

32 l/min

nominal flow 2-3:

40 l/min

leakage max. :

4 ml/min

Drawing number:

1408 02.6-00

Price:
System affiliation:

System 6

Overall Width:

16 mm

Power Level:
Electrical operating mode:

AC/DC

Manual Override:

With Manual Override

pneumatic operating mode:

3/2 NC

Orifice Size Inlet:

1,0 mm

Orifice Size Exhaust:

1,1 mm

Min. Operating Pressure:

0,0 bar

Max. Operating Pressure:

10,0 bar

Connection Type:
Surface Coating Armature Tube:

Without

Sealing material in the armature:

FKM

Coating of armature:

Without

Sealing material to the valve body:

ohne Dichtung

Permissible operating temperature min.:

-10 °C

Permissible operating temperature max.:

130 °C

Medium quality according to ISO standard:

3-3-3

nominal flow 1-2:

27 l/min

nominal flow 2-3:

37 l/min

leakage max. :

4 ml/min

Drawing number:

1408 05.6-00

Price:
System affiliation:

System 6

Overall Width:

16 mm

Power Level:
Electrical operating mode:

DC

Manual Override:

With Manual Override

pneumatic operating mode:

3/2 NC

Orifice Size Inlet:

0,8 mm

Orifice Size Exhaust:

0,9 mm

Min. Operating Pressure:

0,0 bar

Max. Operating Pressure:

8,0 bar

Connection Type:
Surface Coating Armature Tube:

Without

Sealing material in the armature:

FKM

Coating of armature:

chem. Nickel on brass

Sealing material to the valve body:

NBR

Permissible operating temperature min.:

-10 °C

Permissible operating temperature max.:

130 °C

Medium quality according to ISO standard:

3-3-3

nominal flow 1-2:

20 l/min

nominal flow 2-3:

26 l/min

leakage max. :

4 ml/min

Drawing number:

1408 04.6-00

Price:
System affiliation:

System 6

Overall Width:

16 mm

Power Level:
Electrical operating mode:

DC

Manual Override:

With Manual Override

pneumatic operating mode:

3/2 NC

Orifice Size Inlet:

0,6 mm

Orifice Size Exhaust:

0,7 mm

Min. Operating Pressure:

0,0 bar

Max. Operating Pressure:

8,0 bar

Connection Type:
Surface Coating Armature Tube:

Without

Sealing material in the armature:

FKM

Coating of armature:

chem. Nickel on brass

Sealing material to the valve body:

ohne Dichtung

Permissible operating temperature min.:

-10 °C

Permissible operating temperature max.:

100 °C

Medium quality according to ISO standard:

3-3-3

nominal flow 1-2:

12 l/min

nominal flow 2-3:

14 l/min

leakage max. :

4 ml/min

Drawing number:

1408 10.6-00

Price:
System affiliation:

System 6

Overall Width:

16 mm

Power Level:
Electrical operating mode:

AC/DC

Manual Override:

With Manual Override

pneumatic operating mode:

3/2 NC

Orifice Size Inlet:

1,0 mm

Orifice Size Exhaust:

1,1 mm

Min. Operating Pressure:

0,0 bar

Max. Operating Pressure:

10,0 bar

Connection Type:
Surface Coating Armature Tube:

Without

Sealing material in the armature:

FKM

Coating of armature:

Without

Sealing material to the valve body:

ohne Dichtung

Permissible operating temperature min.:

-10 °C

Permissible operating temperature max.:

100 °C

Medium quality according to ISO standard:

3-3-3

nominal flow 1-2:

32 l/min

nominal flow 2-3:

40 l/min

leakage max. :

4 ml/min

Drawing number:

1408 12.6-00

Price:
System affiliation:

System 6

Overall Width:

16 mm

Power Level:
Electrical operating mode:

DC

Manual Override:

With Manual Override

pneumatic operating mode:

3/2 NC

Orifice Size Inlet:

0,8 mm

Orifice Size Exhaust:

0,9 mm

Min. Operating Pressure:

1,0 bar

Max. Operating Pressure:

8,0 bar

Connection Type:
Surface Coating Armature Tube:

Without

Sealing material in the armature:

FKM

Coating of armature:

chem. Nickel on brass

Sealing material to the valve body:

ohne Dichtung

Permissible operating temperature min.:

-10 °C

Permissible operating temperature max.:

100 °C

Medium quality according to ISO standard:

3-3-3

nominal flow 1-2:

23 l/min

nominal flow 2-3:

28 l/min

leakage max. :

4 ml/min

Drawing number:

1408 11.6-00

Price:
System affiliation:

System 6

Overall Width:

16 mm

Power Level:
Electrical operating mode:

DC

Manual Override:

Without Manual Override

pneumatic operating mode:

3/2 NC

Orifice Size Inlet:

0,8 mm

Orifice Size Exhaust:

0,9 mm

Min. Operating Pressure:

0,0 bar

Max. Operating Pressure:

8,0 bar

Connection Type:
Surface Coating Armature Tube:

Without

Sealing material in the armature:

FKM

Coating of armature:

chem. Nickel on brass

Sealing material to the valve body:

ohne Dichtung

Permissible operating temperature min.:

-10 °C

Permissible operating temperature max.:

130 °C

Medium quality according to ISO standard:

3-3-3

nominal flow 1-2:

20 l/min

nominal flow 2-3:

26 l/min

leakage max. :

4 ml/min

Drawing number:

1408 13.6-00

Price:
System affiliation:

System 6

Overall Width:

16 mm

Power Level:
Electrical operating mode:

AC/DC

Manual Override:

With Manual Override

pneumatic operating mode:

3/2 NC

Orifice Size Inlet:

0,8 mm

Orifice Size Exhaust:

0,9 mm

Min. Operating Pressure:

0,0 bar

Max. Operating Pressure:

10,0 bar

Connection Type:
Surface Coating Armature Tube:

Without

Sealing material in the armature:

FKM

Coating of armature:

Without

Sealing material to the valve body:

ohne Dichtung

Permissible operating temperature min.:

-10 °C

Permissible operating temperature max.:

100 °C

Medium quality according to ISO standard:

3-3-3

nominal flow 1-2:

23 l/min

nominal flow 2-3:

28 l/min

leakage max. :

4 ml/min

Drawing number:

1408 22.6-00

Price:
System affiliation:

System 6

Overall Width:

16 mm

Power Level:
Electrical operating mode:

DC

Manual Override:

With Manual Override

pneumatic operating mode:

2/2 NC

Orifice Size Inlet:

0,6 mm

Orifice Size Exhaust:
Min. Operating Pressure:

1,0 bar

Max. Operating Pressure:

16,0 bar

Connection Type:
Surface Coating Armature Tube:

Without

Sealing material in the armature:

FKM

Coating of armature:

chem. Nickel on brass

Sealing material to the valve body:

ohne Dichtung

Permissible operating temperature min.:

-10 °C

Permissible operating temperature max.:

100 °C

Medium quality according to ISO standard:

3-3-3

nominal flow 1-2:

12 l/min

nominal flow 2-3:
leakage max. :

4 ml/min

Drawing number:

1408 35.6-00

Price:
System affiliation:

System 6

Overall Width:

16 mm

Power Level:
Electrical operating mode:

DC

Manual Override:

With Manual Override

pneumatic operating mode:

2/2 NC

Orifice Size Inlet:

0,8 mm

Orifice Size Exhaust:
Min. Operating Pressure:

0,0 bar

Max. Operating Pressure:

8,0 bar

Connection Type:
Surface Coating Armature Tube:

Without

Sealing material in the armature:

FKM

Coating of armature:

chem. Nickel on brass

Sealing material to the valve body:

ohne Dichtung

Permissible operating temperature min.:

-10 °C

Permissible operating temperature max.:

100 °C

Medium quality according to ISO standard:

3-3-3

nominal flow 1-2:

23 l/min

nominal flow 2-3:
leakage max. :

4 ml/min

Drawing number:

1408 36.6-00