Modular solenoid valves represent a long-established classic from nass magnet in the field of pneumatics. Their robust design and a proven operating principle allow them to be used under difficult operating conditions, for example with reduced compressed air quality or with unstable power supply.
Depending on the required flow rate, nass magnet offers modular solenoid valves in four system sizes 6, 8, 13 and 16, based on the approximate diameter of the associated armature guide. Within these system sizes there are solenoid coils, armature systems, valve systems and mounting options that can be combined in a variety of functional ways, which in turn can be configured in many different ways.
The classification of the nass magnet performance levels supports the operator in determining an optimal combination, optimally tailored to the respective application. Special valve designs, for example with fire protection qualified plastics or low-temperature elastomers, are also represented in the modular valve concept of nass magnet.
A particular advantage is the interchangeability of individual components by the customer:
in case of service or
in the event of subsequent conversion of the valve with regard to mono-/bi-stable manual actuation,
AC/DC operation with a wide range of nominal voltages, or also
for installation in explosion protection areas.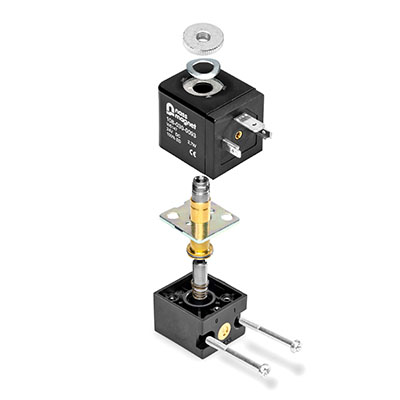 The orientation of the electrical interface or the cable outlet is almost freely selectable during commissioning and is not specified by the manufacturer. The materials of the components can also be adapted. For example, valve bodies of the same type made of high-performance plastic, anodised aluminium, vacuum-impregnated zinc die-cast or corrosion-resistant stainless steel are available.
Modular solenoid valves can be blocked in a linear arrangement without spacing.
Thus, the System 8 with 22 mm or 30 mm width in valve terminals represents the optimum between integration density, short switching times, excellent flow, extremely long service life as well as energy efficiency.