The extensive standard product spectrum of nass magnet includes functional screw joints with a throttle function.
The functional screw joints feature fine adjustment options for the precise flow control of compressed air and gases. If a functional screw joint made of stainless steel is required, nass magnet offers a simple swivel connector with a throttle check valve.
Control and shut-off valves are also available from nass magnet.
Also includes are pilot operated check valves for compressed air.
The valve, which is made of nickel-plated brass and features a pilot operated check function, can be used for example to prevent pneumatic cylinders from losing air accidentally in case of a pressure drop.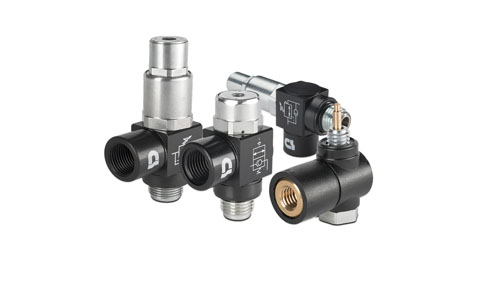 Exhaust air flow control
Price
Product group
Single banjo bodies
Ring spigot connection
Banjo bolt thread
Drawing number
Price:
Product group:

Size 3

Single banjo bodies:

without

Ring spigot connection:

n.a.

Banjo bolt thread:

M5

Drawing number:

92037113

Price:
Product group:

Size 3

Single banjo bodies:

without

Ring spigot connection:

n.a.

Banjo bolt thread:

G 1/8"

Drawing number:

92047121

Price:
Product group:

Size 5

Single banjo bodies:

without

Ring spigot connection:

n.a.

Banjo bolt thread:

G 1/4"

Drawing number:

92057113

Price:
Product group:

Size 5

Single banjo bodies:

without

Ring spigot connection:

n.a.

Banjo bolt thread:

G 1/4"

Drawing number:

92057123

Price:
Product group:

Size 7

Single banjo bodies:

without

Ring spigot connection:

n.a.

Banjo bolt thread:

G 1/2"

Drawing number:

92077113
Operated check valves
Price
Product group
Packaging
Thread
Single banjo bodies
Ring spigot connection
Banjo bolt thread
Min. Operating Pressure
Max. Operating Pressure
Permissible operating temperature max.
Permissible operating temperature min.
Drawing number
Price:
Product group:

-

Packaging:

Single packaging

Thread:
Single banjo bodies:

Innengewinde

Ring spigot connection:

G 1/8"

Banjo bolt thread:

G 1/8"

Min. Operating Pressure:
Max. Operating Pressure:
Permissible operating temperature max.:

+70°C

Permissible operating temperature min.:

-10°C

Drawing number:

94041251

Price:
Product group:

-

Packaging:

Single packaging

Thread:
Single banjo bodies:

Plug connection

Ring spigot connection:

NPTF 1/4"

Banjo bolt thread:

NPTF 1/8"

Min. Operating Pressure:
Max. Operating Pressure:
Permissible operating temperature max.:

+70°C

Permissible operating temperature min.:

-10°C

Drawing number:

94042272

Price:
Product group:

-

Packaging:

Single packaging

Thread:
Single banjo bodies:

Plug connection

Ring spigot connection:

6

Banjo bolt thread:

G 1/8"

Min. Operating Pressure:
Max. Operating Pressure:
Permissible operating temperature max.:

+70°C

Permissible operating temperature min.:

-10°C

Drawing number:

94041272

Price:
Product group:

-

Packaging:

Single packaging

Thread:
Single banjo bodies:

Innengewinde

Ring spigot connection:

G 1/4"

Banjo bolt thread:

G 1/4"

Min. Operating Pressure:
Max. Operating Pressure:
Permissible operating temperature max.:

+70°C

Permissible operating temperature min.:

-10°C

Drawing number:

94051251

Price:
Product group:

-

Packaging:

Single packaging

Thread:
Single banjo bodies:

Innengewinde

Ring spigot connection:

G 3/8"

Banjo bolt thread:

G 3/8"

Min. Operating Pressure:
Max. Operating Pressure:
Permissible operating temperature max.:

+70°C

Permissible operating temperature min.:

-10°C

Drawing number:

94061251
Page
You're currently reading page

2